The Herbert Denton Scholars
T

he 35 Herbert Denton Scholars have attended schools across the country and studied subjects from medicine to theater. After graduation, they have gone on to careers in journalism, politics, finance, non-profit management, fashion, science, entrepreneurship and more.

They have each treasured the opportunity provided by the scholarship, and look forward to each new Denton Scholar.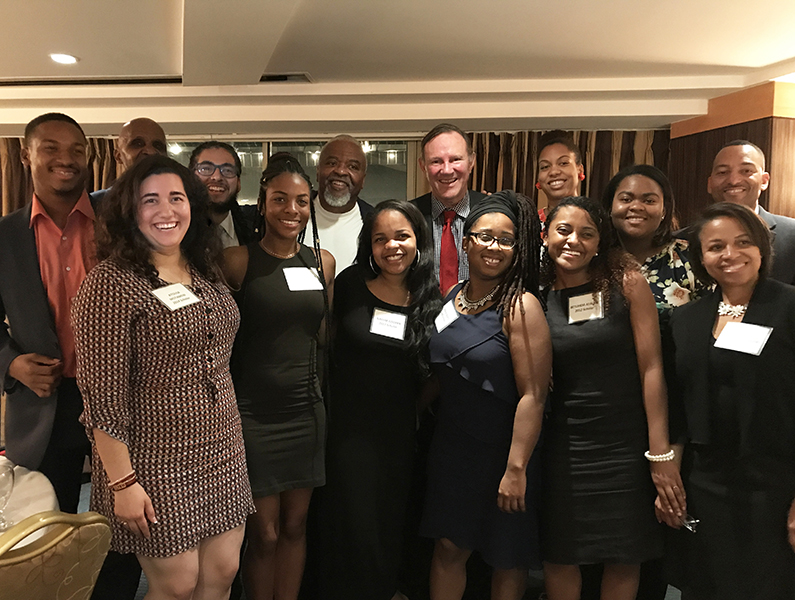 | Denton Scholar | High School | Year of Graduation | College Attended |
| --- | --- | --- | --- |
| Jennifer Z. Ahmed | Bethesda-Chevy Chase High School | 2005 | University of Maryland |
| Kayce Ataiyero | H.D. Woodson High School | 1995 | University of Maryland |
| Betlihem Ayalew | Banneker Academic High School | 2012 | Wake Forest University |
| David A. Brown | Georgetown Preparatory School | 2002 | Boston College |
| David Bennett Brown | Banneker Academic High School | 2003 | Duke University |
| Nyron Burke | DuVal High School | 2001 | Princeton University |
| Massiah Butler | Banneker Academic High School | 2019 | Spelman College |
| Milanka Code | DuVal High School | 2009 | Art Institute of New York City |
| Naujae Cooper | Banneker Academic High School | 2017 | Temple University |
| Tshaka Jawanza Cunningham | St. Alban's School | 1992 | Princeton University |
| Benjamin de la Piedra | Washington International School | 2010 | Columbia University |
| Curtiland Deville | Bethesda-Chevy Chase High School | 1996 | Brown University |
| Dominic Dickerson | The Potomac School | 2004 | University of Miami |
| Jason McLeod Goins | The Barrie School | 1997 | Harvard University |
| Vincent Harris | The Potomac School | 1994 | University of Virginia |
| William Hakeem Harrison | St. Albans School | 2011 | Yale University |
| Rhassan Hill | DuVal High School | 2007 | Williams College |
| Gregory Hollis | School Without Walls | 2018 | Morehouse College |
| Anthonya James | Thurgood Marshall Academy | 2015 | UCLA |
| Zende James | Banneker Academic High School | 2019 | Emory University |
| Kaliyah Johnson | Washington Latin Public Charter School | 2015 | St. Leo University |
| Arthur T. Jones II | St. Albans School | 2013 | Indiana University |
| Rhema Jones | KIPP DC College Preparatory | 2018 | McDaniel College |
| Angela D. Lewis | Eastern High School | 2000 | Duke University |
| Kori Lurk | School Without Walls | 2016 | Howard University |
| Ayana Valia May | West Potomac High School | 1993 | University of Virginia |
| Jong-Sun Mayele | The Barrie School | 2016 | University of Rochester |
| Natasha Metts | Eastern High School | 2006 | Howard University |
| Atousa Motameni | Bethesda-Chevy Chase High School | 2014 | University of Maryland |
| Martine (Lory) Ridore | Bethesda-Chevy Chase High School | 2007 | McDaniel College |
| Erin Michele Roberts | School Without Walls | 1998 | Yale University |
| Lundyn Ross | Banneker Academic High School | 2021 | Spelman College |
| Akua Walker | H.D. Woodson High School | 1999 | Florida A&M University |
| Omari West | The Washington International School | 1991 | Columbia University |
| Tabitha Peyton Wood | The Washington International School | 2008 | Columbia University |